Let's complete our series honoring American writer Kurt Vonnegut on the 99th anniversary of his birth with another piece taken from his novel Cat's Cradle.  In the world of this novel there's an imaginary religion created called Bokononism whose elusive founder writes psalms and prayers that reference Caribbean musical styles. Even though Vonnegut never set music to them, he seemed happy that others did during his lifetime.*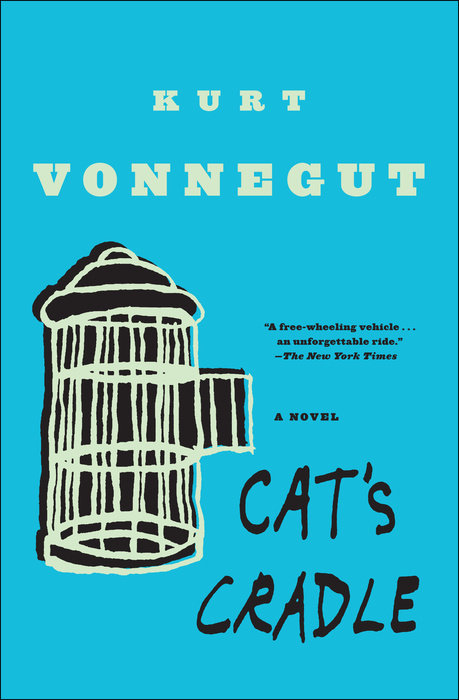 .
The LYL Band, the loose organization of herded cats that Dave Moore and I have played under for about 40 years, performed several pieces using Bokonon's psalms and other short passages we'd read in Vonnegut's novels three days after his death was announced back in 2007. I wrote the music for these in that interim and did the vocals when they were performed "live in the studio" within two one-hour sets. As I mentioned in other episodes of this series, the performances aren't perfect. For one thing, Dave is creating his keyboard parts on the fly after maybe hearing a quick run down and with nothing more than a chord chart. Given that I'm not a very good chord/rhythm player that's a testament to him and what decades of playing together will do for a band. Another problem was that I was suffering from cold/allergies that day and my vocals had issues with congestion and phlegm.
I recorded those two sets, though I thought it a shame that my phlegm issues reduced the quality of the performances. Over the years since 2007 I've listened to those performances, and I found that I either had become inured to their sound or that the emotional moment of us honoring Vonnegut overcomes that.
"God Made Mud"  was the next to last song we did that day.** It's probably the best of our Vonnegut Memorial stuff in terms of my vocals. "God Made Mud"  appears in Vonnegut's novel as the text of "The Last Rites of the Bokononist Faith."   The Bokononism that Vonnegut invented is used in the novel in various ways to satirize human nature and our search for meaning. For some readers — oddly enough, atheists and secure believers both — those insights into belief are the emotional core of the book. For those in non-Abrahamic religions, there are echoes of Buddhist teachings, intentional or otherwise, mixed in there too.
But by the time Vonnegut gets to "God Made Mud"  the sincerity of the final human situation, the miracle and the limits of our lives, completely overcomes the satire, and removed from the novel's plot it moves me. It moved me then as we were performing it in the week of its author's death, moved me later in consideration of other deaths and thoughts of gratitude for lives, and moves me again this autumn as I consider death and the approach of death by folks in my circle.
Click this highlighted hyperlink to hear the LYL Band's performance of "God Made Mud"  —  or some of you may see a horizontal player gadget below this paragraph to play it. One last thing before I go: if you appreciate what this Project does and you think you know someone or some audience who might also appreciate these varied combinations of words and original music, help it continue by sharing links to the audio pieces or posts on social media or elsewhere. I almost never have the time to do that, and I'm bad at it anyway, so a good deal of this effort's audience comes to it this way. Thanks!
.
* Oddly, most of those settings that I've heard make no reference to Caribbean musical styles implied in Vonnegut's imaginary Bokonon texts. One of those styles, calypso, has lost most of its currency in North America, but in today's piece I used a reggae feel as a reasonable substitute.
**The last song back in 2007? Dave Moore's own meditation on last things "The Final Minute,"  which we presented here this summer.