This month I've been doing a series of pieces based on poems from Langston Hughes' first book-length collection The Weary Blues of 1926 — but maybe it's time to mention that I have already presented two early pieces that were included in that book.
Here's Hughes "Dream Variation"  which also offered its title to a section of the 1926 book.  "Dream Variation"  is an example of Hughes offering a quickly understandable surface message with a plausible deeper intent beneath that surface. The surface reading will connect easily with anyone stuck in a February northern location winter: "To fling my arms wide / In some place of the sun" is something most of us in Minnesota would be ready for, but are only dreaming of right now. Many here like to talk about our enjoyment of the outdoors even in our cold climate, and yes there was some sun when I rode out at 16 degrees F this morning on my bike. I was happy to get the exercise and to watch the crows big as black chickens and the binary oblivious to flurious* squirrels — but I'm tired by now of pulling on leggings and making sure my hands have enough covering to keep my fingers from the cold stiff numbness.
I talked about my encounter with the poem and it's sometimes discussed deeper connotations here. You can hear the audio piece with guitar and piano clustering around a three-months-into-winter drone with either a graphic audio player that some of you will see, or this highlighted link.
.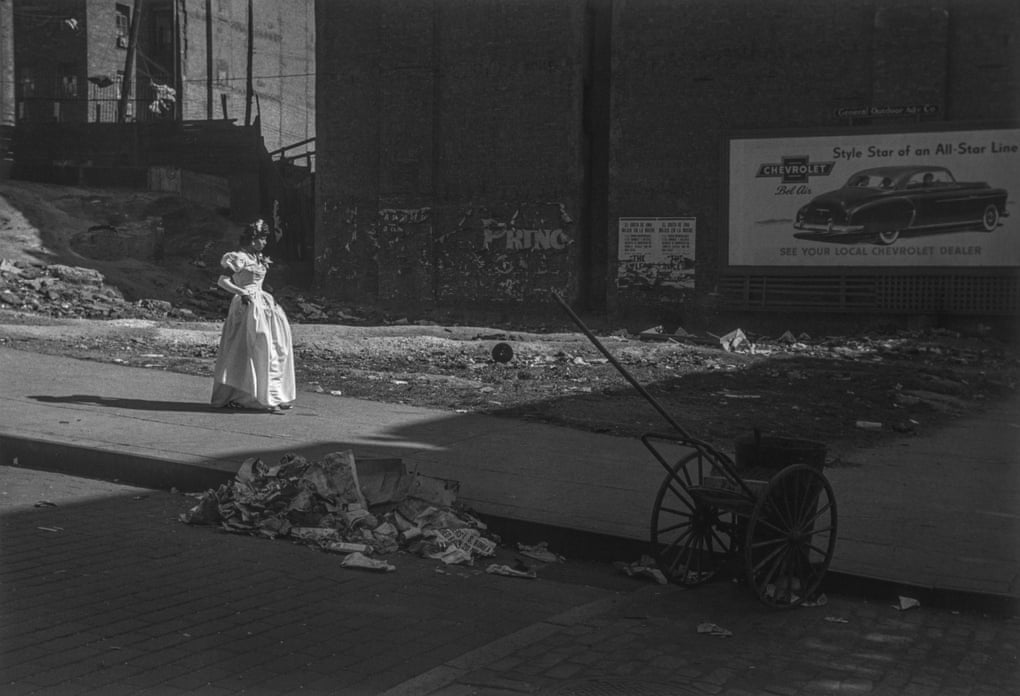 I was quite taken by this photo of Roy DeCarava's "Graduation 1949" when I saw it this winter.
.
The Weary Blues  has another section that takes its title from one of Hughes' best known poems "The Negro Speaks of Rivers."   I was talking about this poem this morning to a fellow I sometimes meet in a café I ride to. I was saying this is a remarkable poem written by a 17 year old, one who literally crossed and looked at America's Mississippi River on his way to New York City in furtherance of a compromise with his father on college education.**   Maybe this won't seem remarkable to you, if you're here already reading this far down about a poet who died in the last century, who wrote it generations back.
Hughes might have written about the exact details of his current life. He could have written about how he felt, what with the bargain he'd been forced to strike with his father. He was 17, and forming his own autonomous self is the task of any young person. His father probably didn't know what the rest of the 20th century would be like for Langston, much less what we'd think of things now in the 21st. What would young Mr. Hughes have known? More, or less?
I was recently reading some jokes observing what are considered the perennial follies of youth. One of the zingers was "It's best to hire young graduates while they still know everything."  Queue the laugh track.
I don't know if 17-year-old Langston Hughes thought he knew everything. I didn't think so at that age myself. But as we consider why we might want to read or listen to poetry by long-dead poets, we might want to consider what Hughes' poem asks us to consider: that we are the accumulations and results of our ancestors and neighbor's ancestors. That doesn't mean we are them, we are the sum on one side of the equals sign from a lot of figures to the left of it; and so the possible extensions, solutions, fulfillment and remediations of them.
That's what's remarkable about the young Mr. Hughes' poem, its approachable impersonality and insistence on the distances yet salience of the past. It's not "A Negro…" even, but "The Negro…."  In it, the current of the past is longer than any history of oppression, injustice, or any stories of conquest. Endurance yes, but beauty too. So, despite age-related-stereotypes, at 17 Mr. Hughes may not, and doesn't have to, know everything — but it helps to know some things that came before you. Rivers flow. Rivers move. Langston Hughes wrote this moving to New York City — the place where he eventually lived most of his life, but not before changing what he did on the banks of another river.
That's why we have Black History Month,*** and why I'm talking here to what I suspect is substantially a white audience about Hughes and that observance. Some of you may be nodding off by now, whatever color — "We know all this." you may be muttering. Facts are not the soul, but poetry and music can speak of that.
I've always rather liked my electric guitar performance on my setting of "The Negro Speaks of Rivers"  that you can hear with the player gadget where seen below, or with this highlighted link.
.
*Yes, there wasn't a word "flurious" until now. You are present at the creation!
**My original post on this poem has a longer summary of Langston Hughes' family situation at the time he wrote this poem. In short, his father was adamant that instead of literature that Langston study engineering. Langston agreed, but then after trying to go along with his father's wishes, he dropped out, shipped out to sea on merchant ships, and on return to the U. S. worked various lower-end jobs. I think of John Keats' decision a hundred years before Langston Hughes'. Engineering and medical field students: I'm not suggesting poetry instead. Really, I'm not. Perhaps rather an and instead of or is best.
***It may not be coincidental, but one of the jobs Langston Hughes eventually had was a stint working with Carter Woodson, who first suggested an annual observance of Black history. So, all the more reason to focus on his work this February.