Today's piece for National Poetry Month is another Emily Dickinson: her gothic aubade "Ample make this Bed."   Word-music is subjective, but I find this one of the most poignant and lovely of her poems.
As with many Dickinson poems the meaning tantalizes, at once clear on the surface and tangled beneath. The trope it's using, the aubade, is highly common in love poems. In the aubade, the lovers are faced with the dawn and do not want to leave their night. The poem's loveliest line "Let no sunrise' yellow noise" is as good as a line as ever graced this poetic form. Yet, Dickinson's stance has a twist in that there's an implication just below the surface* that the "bed" is instead a buried coffin, which the voice of the poem declares will not be occupied for a lover's single night, but until the Last Judgement at the end of time (as per some Christian doctrine).  Stop though, and consider — which is the metaphor and which the actual moment being portrayed? Is the bed our life, or our time after life?
.
I think this is another example of a gestalt drawing as a poem. We're to behold either and both.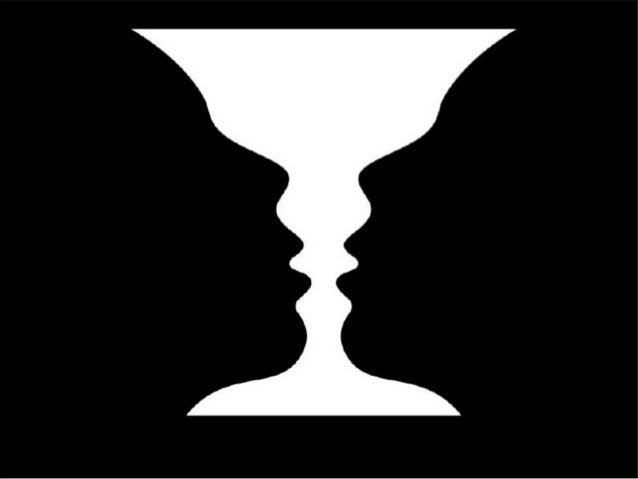 The classic gestalt face/vase drawing asks us to alternate "figure" and "ground."
.
The paired bedding metaphors of the first two lines of the second stanza may be overlooked on one's first or second, or even further readings, so audacious is that overall bed/coffin in the grave pairing. So, let's examine them for a moment. How often have we tossed and turned in a restless night? Nothing is right. The mattress is too firm, or swayed and too soft. The gentle corners of the pillow jab us, and it's neither high or low enough. The mattress/pillow lines remind us that contentment is like unto the grave.
Can we make the bed of our lives ample — or the sum of our lives totaled at final judgement? Are the lovers ever fully ample when judged at end? Oh but it is beautiful and poignant to think they might be, and honorable to try.
As National Poetry Month continues for this week, we have three ways again to enjoy this re-release of one of my favorite audio pieces from the six-year history of the Parlando Project. There's our graphic player gadget below in many cases, but I've provided this highlighted link as an alternative since some ways you can view this blog won't show the player. And there's our poetry month bonus: the lyric video above.'
.
*As usual, pun intended.