Celebrating Kurt Vonnegut during this week that will mark the 99th anniversary of his birth allows two things to cross and connect, for he was born in 1922 on what would have been called Armistice Day then and will be called Veteran's Day tomorrow in the US. Two decades later as a 20-year-old, he enlisted in the Army, served in WWII, and was rather famously a prisoner of war incarcerated in the German city of Dresden when it was subject to a massive firebombing raid from his own side.
As one might imagine that experience impressed itself mightily on Vonnegut, who as a writer eventually dealt with the matter in his best-known novel Slaughterhouse Five.  But that was not his first novel to deal with WWII. That would be 1962's Mother Night.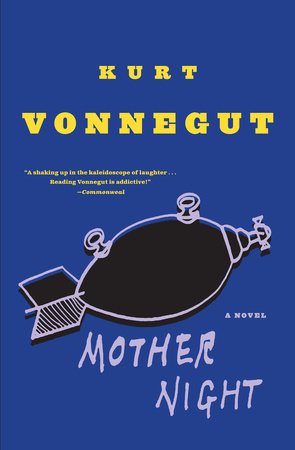 Mother Night, like all of Vonnegut's novels remains in print. Mother Night does contain satire, but I'm not sure that as the cover blub above advertises that this one will shake up your kaleidoscope of laughter.
.
The short plot summary for Mother Night  is that it concerns the story of an American who was in Nazi Germany during the war, and who tells us that all-the-while working with American undercover efforts he made fulsome fascist propaganda broadcasts. This situation gives us all kinds of resonances: with important American Modernist Ezra Pound for example,*  with America's own fascists, and with anyone who has ever found themselves working (for whatever reason) with a cause that they themselves feel they are not in alignment with.
The novel's protagonist wrote "The Great Machine"  in the novel as a poem explaining how he and his beloved German wife had done what they felt was necessary to survive, and once again the novelist while in character allowed Vonnegut license to write poetry.
Abstracted from the novel, and as a stand-alone poem, it mentions nothing of the fascist double-life theme of Mother Night  however. Heard in this way, as the LYL Band performed it during the week of Vonnegut's death in 2007, "The Great Machine"  speaks instead to refugees trying to escape violent situations by whatever means they can muster. In such events it's not uncommon for the "you really must understand" class of commentators to mention that the refugees should not be fleeing but should stay and try to counter the violence in their own countries. I don't know if it's absolutely required, but such commentators almost never seem to have been in similar situations themselves. In the saddest reportage in Vonnegut's poem, it says that most people do not, in fact, flee in these situations, but ignorantly or fatalistically accept becoming victims of The Great Machine that is History.
After our first two installments of our Vonnegut series it's gotten darker here, but you can hear The LYL Band's performance of this poem found in a novel with the player gadget below, or by clicking this highlighted hyperlink.
.
*Living during the war in Italy, Pound (who had been attracted to outsider political ideas, not just fresh approaches to literature) made propaganda broadcasts for the Italian Fascists. Pound, as with several other Axis broadcasters from Allied countries, was arrested at the war's end and faced charges of treason, with a possible death sentence. American literary figures helped lobby to have Pound instead declared insane, reducing his culpability. British humorist P. G. Woodhouse was in Germany during the war and made Axis broadcasts, which his literary admirers and defenders characterized as not propagandistic.
It's easy for us at this remove to forget how close at hand these issues were when Vonnegut was working on his novel. WWII was as close as September 11 2001 and the wars that followed are to us now in 2021.  Oddly though, American fascism, which had been a considerable issue during the '30s and '40s and is again now, was considered something of a comic non-entity in the 1962 world of his novel.